Do you dream about going to France?
Wouldn't you love to visit Paris?
Do you dream of shopping the brocantes/flea markets and finding wonderful vintage linens like these?
Or finding a collection of these?
How about finding a wonderful chippy iron day bed like this?
And seeing places like this?
Well, if you are a blogger and have this dream it can come true this year.
My friend and fellow blogger Kimberly Hites is hosting a fantastic trip to France to see the French countryside from Paris to Normandy and to shop, shop, shop.
All the details are on her blog
La belle Epoque
. You can scroll down her page and click on the brochure information. The price can't be beat for what is included and for a whole week.
I'm saving and going and sure hope we can get a few more to join us.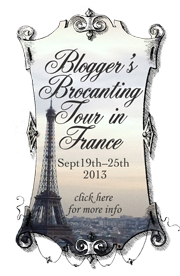 All photos were borrowed from my friend Kim's blog to share the info.