When I share purchases I get many comments saying I find the best stuff at the best prices. It really is mostly luck and sometimes being in the right place at the right time. I also do a lot of comparison shopping on line. I'm still on the hunt for an accent chair to replace the brick red one in my great room. I have also told my designer at Ethan Allen that if my order for the sofa gets pushed out one more time I'm cancelling the order. I'm just not going to keep going through this over and over. I also asked to talk to the manager and she said she would have her call me and that never happened.
I am seriously disappointed in their customer service.
This chair at
wayfair.com
is truly pulling my heartstrings. It is just like the ones at Restoration Hardware that are twice the price or more. This one states that it is made with French linen. The close up of the fabric on the site looks really nice.
I love the added nail trim. It gives it that rustic casual look I want.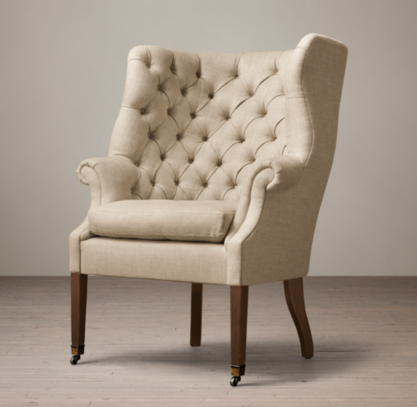 I like this one from Wayfair, too, but it costs a bit more and it may be wider than I want. I'm still debating.
I am also on the hunt for a sofa if the EA one gets cancelled. The one on the left is part of the Wayfair custom upholstery line and I ordered some free swatches to look at. The one on the right is the PB version at twice the price depending on the fabric choice. The Wayfair one has really good reviews and sounds perfect. I can cancel my EA order and save $1500 and have it in two to three weeks. Most folks got theirs sooner according to the reviews.
The coffee table I ordered from EA has been in and I told them to go ahead and deliver it so it will be here Monday afternoon. I sure hope I love it.

So the saga continues....